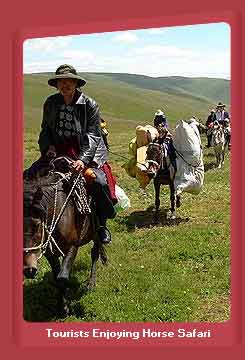 Our Tours and Trips are subjected to specific terms and conditions as mentioned below.
To enjoy tension free holidays, and to escape from any last minute hassles, we request our valuable customers to follow our pre-defined procedures for booking a tour package with us. This will help us to analyze your requirements in a better way, thus offering you more specialized holiday tours, well keeping in mind your interests and budget.
Booking & Visa
To avoid any last minute confusions, we suggest for the final booking of the tour at-least 2 weeks in advance of the tour, besides providing us with your full passport details (full name, sex, nationality, passport number, date of birth and profession).

We also arrange for Tibet/China visa. The visa formalities should be completed in advance as it takes minumum of 2 week in processing tourist visa. Our visa fee is US $ 25 per person for all nationals.
Our charges for Group Tibet Visa are -
To get visa in one single day - charges US $ 20.
To get visa in three days - charges US $ 15 as an essential fee over the usual visa fee.
For Tibet visa, a group of minimum 5 people is essential for conducting a private tour. However, if the tour is on group joining basis, even single person can become the part of the group.
It is suggested that the visa for Tibet should be obtained from us, as the visa obtained from the Chinese embassy at your home country, does not guarantee you an entry into Tibet from Nepal side.
Payment Procedure
There should be 100% advance payment of the total tour amount for booking a tour with us on definite basis.
The customers can telegraphically transfer the payment of the tour to our bank account at the below mentioned address:

Our Bank Address:
Abn Amro Bank,
15, Hansalaya Building,
New Delhi - 110001 (INDIA)
Current A/c No: 8100214299
Swift code : abnainbbdel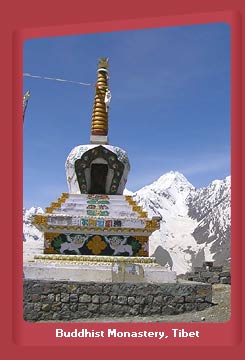 Documents Needed
If you wish to pay by credit card - master / visa Card then following documents are essential.


A) Authorisation letter, as per the following specimen:
I,................................................ Hereby authorise M/s Travel Spirit International Pvt. Ltd., Taneja House, I - 84, Lajpat Nagar- II, New Delhi-24, India to charge a sum of US$ ............ ( US dollars .................................) Card No...................................... Valid till.................................... For services being rendered to me.

B) Photocopy of the credit card (both side).


These documents can be sent to us by fax. Our fax no is +91 - 11 - 2684 2312, 2682 0044.
Payment vide credit card will attract 4% surcharge on amount. Buddhist Monastery, Tibet.
Cancellation
Within 7 days of tour booking if any cancellation is made then the company will refund 50% of total amount of the tour, thereafter no refunds are made.
The company is not held responsible for any delay arrivals, no shows or any other unpredictable circumstances, in all these cases the company is not accountable for any refund.
There is a separate rule for air tickets for the sector Katmandu/Lhasa/Katmandu. Air tickets are issued on first come first serve basis. Old bookings are not considered by the Chinese airlines. To avoid these hassles, we get the tickets issued for our customers at least 3-4 weeks prior to their starting tour, by taking 100% advance payments of the full tour amount by them. Also, once the air tickets are issued, they are non-refundable, non-re-routable and non-transferable. So, in case of the cancellation of the tour, there shall be no refund against the air tickets.
Risk & Liability
We always put our efforts towards making your journey smooth and pleasant. However, as all tours to Tibet are run strictly under Tibet tourism authority, we or our agents shall not be responsible for any changes or cancellation of programs due to unavoidable circumstances such as road blockade, flood, snow, unrest, cancellation of flight, delayed arrival of clients, sickness or accidents, breakdown of vehicles.
Any extra cost incurring thereof shall be borne by the clients on the spot. It is always advisable to have full insurance against medical and personal accident risks. A cancellation insurance is also highly recommended.