Facts for the traveller
To visit Tibet, the legendary, forbidden land on the roof of the world, has been the dream of many Westerners.
Getting There
By Air
Kathmandu - gonggar : a twice-weekly flight operates between Kathmandu and Lhasa from the beginning of April through October and sometimes till November depending upon the weather conditions. The 55 minute flight offers spectacular views of the Himalayas and the southern Tibetan plateau.
By Road
An approach that has great appeal for hardy and adventurous travellers is to enter or leave Tibet by road, following the footsteps of explorers who for more than a century tried (and usually failed) to reach Lhasa overland.
Visa
The Chinese governments prohibits individual traveller to visit Tibet. The Chinese embassy will only issue visas to travellers on group tours i.e if there is a single tourist or a tourist group of less then 05 pax then they will have to join a group in order to get a visa.
In addition to the visa, it is necessary to obtain an aliens' travel permit for travel in Tibet. Please carry 04 passport size photographs + smaller us dollars denominations for faster completions of visa formalities.
Customs Regulations
art objects and antiques in Tibet fall under special restrictions forbidding their export. Anything made before 1959 is considered an antique. Rugs may be bought and exported, so may the small religious objects that are sold in open markets, providing only one or two are taken as souvenirs. Customs officials have been known to confiscate jewellery or other objects if they consider that a tourist has purchased 'too much'.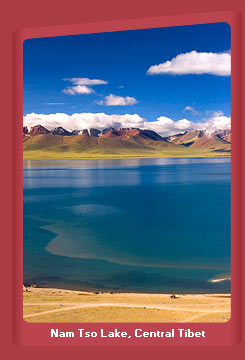 Climate, clothing and equipment
Tibet is cold in winter, cool in summer and generally dry, receiving only 450 millimeters or rain or snow. Sunlight is extremely intense. The thin air neither blocks nor holds heat, so sunshine feels warm, shadows are chilly, and temperatures can vary greatly within a day, exceeding 29 degree Celsius (84 f) in desert areas in summer, and plunging below 4 degree Celsius (40 f) the same night. The most pleasant months for tourism are from April to October.
Clothing should be simple and consist of layers which can be added or removed as the temperature varies during the day. A warm windbreaker and stout comfortable shoes are especially recommended. Formal attire such as a necktie or dress is never needed - trousers and sweaters are the style.
Lhasa now has many pharmacies selling Tibetan, Chinese and some westerns medicines but, it is advisable to bring your own comprehensive first-aid kit, sunglasses with good ultra-violet protection, sun block and lip cream and a flashlight is important because many interesting sights are poorly lit.
Transportation
there are no air routes within Tibet. The distances are huge and the only recommended mode of transportation is hiring the vehicles from the travel agent.
Altitude & Health Tips
Travelling in Tibet is an adventure involving high altitude and could be strenuous. While most visitors have only minor effects from the altitude, we advise specially the guests with known heart or lungs or blood diseases to consult their doctor before travelling. Mild headache, fever, loss of appetite or stomach disorder can take place in a process of acclimatization. Our advice for better acclimatization, drink 4 liter. Of water minimum a day, do not exhaust yourself so much, breathe deep and take rest more than usual.
Emergency Evacuation
Seriously ill travellers should not consider trying to leave Tibet by road, as the difficulties and uncertainties of such a journey pose unacceptable risks. Your only choice is to fly.
Money
Banks in Tibet/china are closed on Saturday & Sunday. So, you are kindly requested to carry about US $ 100 per person in cash over and above the tour cost to cover your extra expenses for main meals and others enroute until Lhasa. If it is cash dollars, even local people help you to get them exchanged in Chinese yuan. Travellers cheques & credit cards are very difficult to be cashed outside the banks especially Outside Lhasa. The unit of currency is yuan . Us$ 1 = 8 yuan.
Communications
International mail is reliable and quite fast if sent by airmail. Idd phone and fax services are available in upmarket hotels.
Visa
The Government of India has withdrawn the temporary landing permit facility till further notice. Hence it is compulsory that all foreign tourists must be in possession of a valid Indian Visa. Tourists also visiting Nepal, Sri Lanka, and other neighboring countries must possess multiple entry Visa.
Documentation & Visa
You must be in possession of a valid passport. We will obtain your visa for Tibet, and the following information when making your reservation:
- Full Name(as it appears in the passport)
- Passport Number
- Date Of Issue
- Place Of Issue
- Date Of Expiry
- Nationality
- Date Of Birth
- Occupation
- Two Passport Size Photographs