7 NIGHTS/ 8 DAYS ( FLY IN / FLY OUT) TOUR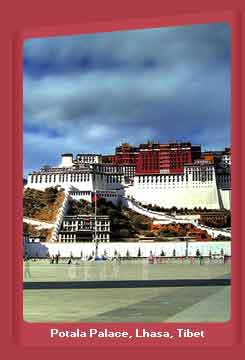 Day 01: Kathmandu/Lhasa (By Flight)
Morning you will fly for about an hour over the panoramic Himalayan Ranges to the capital of Tibet. "Lhasa" .
Lhasa
at an altitude of 3,650 mt, is situated on the north bank of
Kyichu River
. Lhasa in Tibetan means
"Place of the Gods"
, the residence of the Dalai Lama., On arrival you will be met by the local representative and transferred to your respective hotel. (60 km/ 1 hr). Full rest in the afternoon to acclimatize. Overnight at hotel in Lhasa.
Day 02: Lhasa
After breakfast full day sightseeing of
Sera Monastery, Jokhang Monastery, Barkhor Market. Sera Monastery
, 5 Kms north of Lhasa, Sera setting is one of Lhasa's prettiest monasteries. Once a community of more than 5,000 monks resided here and was virtually extinguished by the Chinese.
Jokhang Temple
, situated in the heart of Old Lhasa, it houses Tibet's most precious religious relic, a golden Shakyamuni Buddha which was brought as a gift by the Chinese Princess Wen Cheng on the occasion of her wedding to the Tibetan King, Songtsen Gompo.
Barkhor Market place
, which is the religious and social focus of Lhasa.After Sight seeing you will be transferred to hotel for your Overnight at hotel in Lhasa.

Day 03: Lhasa
After breakfast, proceed for full day sightseeing of P
otala Palace, Ramoche Monastery and & Norbulinka. Potala Palace
, this legendary palace built atop a single hill is synonymous with Tibet by the first foremost king Songtsen Gompa.
Norbulingka
meaning 'Treasure Park' covers an area of around 360000 sq. m. and is considered to be the biggest man made garden in Tibet. After sight seeing you will be transferred to hotel for your Overnight at hotel in Lhasa.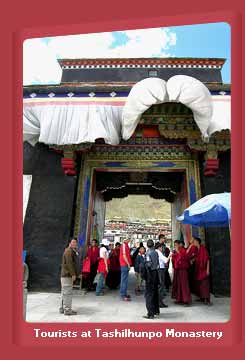 Day 04: Lhasa-Shigatse
Morning drive to Shigatse (273 km).
Shigaste
is Tibet's 2nd most important city. Later proceed for sightseeing
of flee-market
. After sight seeing you will be transferred to hotel for your overnight stay.
Day 05: Shigatse-Gyantse
Morning sightseeing of
Tashilunpo Monastery
. Tashilunpo Monastery was founded in 1447 and is the largest Yellow Hat sect monastery in Tibet. Tashilunpo was the seat of the Panchen Lamas. Tashilunpo contains chortens, temples and the Panchen Lama's palace. At its peak, Tashilunpo had more than 4,000 monks in its 4 monasteries.
.
Afternoon drive to
Gyantse
(90 km).
Gyantse
is a small town south west of Lhasa. It is one of the few places where the Chinese have not changed much. Gyantse is known because of its Fortress, the Dzong, a very special building ,the Kimbum, and a monastery. In Gyantse sightseeing of
Kumbum Stupa & Phalkor Monastery
. A little further down the road is a wall build around a monastery and a strange building called the
Kumbum
. The monastery is called
Pelkor Chode
. It was founded in 1418. Formally there were a number of monasteries inside the walls but today there is just one left. It is visited by Gelugpa monks. The Kumbum is a building with a strange form. Inside it is even more strage because on the first 4 floors there are rooms that are only on 1 floor but also rooms that extend over 2 floors. Inside you can find a large number of statues. In the gallery of pictures attached to this page you can see a number of the thousand statues. After sight seeing you will be transferred to hotel Hotel Gyantse or similar for your overnight stay.

Day 06: Gyantse-Tsedang
After breakfast, drive to Tsedang via Yamdrok Lake (280km).
Tsedang
sits on the south bank in the middle section of the YarlungTsangbo River with a moderate climate at an altitude of 3,600 meters. Tsedang is the birthplace of earliest Tibetans who were said to be the offspring of a monkey and a demoness, so Tsedang literally means "monkey's playground". Here's a legend. People said that genius had lived here long before human being resided in Tibet. After the Gods of the genius got married, they had six sons who became the ancestors of the six tribes of Tibet respectively. Tsedang is the hometown of tribes and an important place of origin of the Tibetan culture. Upon arrival you will be transferred to hotel. Overnight stay at Hotel Tsedang or similar (3400m).
Day 07: Tsedang
Today after breakfast, sightseeing of
Yambulaghang and Samye. Samye Monastery
was the first Buddhist monastery to be founded in Tibet. It is also notable as the site of the "Great Debate" (792 794) between the Indian Mahayanists and Chinese Chán (Zen) Buddhists.Samye is famous for its sacred mandala design: the central temple symbolizes the legendary Mount Meru, center of the universe. It is a popular pilgrimage destination for Tibetan Buddhists, some of whom travel on foot for weeks to reach it. Overnight at Hotel Tsedang or similar .
Day 08: Tsedang-Lhasa/Kathmandu (By Flight)
Transfer to airport to connect return flight.


........ Our Other Tour Packages ........