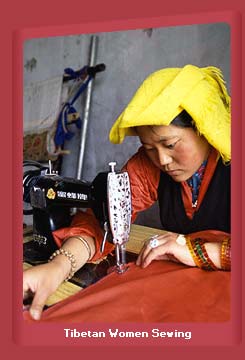 Looking For Arts and Cafts of Tibet !
Tibetan art and craft is one of the virtues of the town that can be traced in its most original form, not been influenced even a bit by the western styles and traditions. And the people of Tibet are proud of their this cultural heritage. Whatever be the field, painting, music, crafts, Tibet has its own identity, its own charm.
What are the Famous Art Form of Tibet !
People of Tibet consider paintings as strong medium for spreading their knowledge and religion to all possible parts of the world. Most of the paintings portray an unshakable belief of people in Buddhism and the way they lead their life. Most of the paintings in Tibet are frescoes, cliff paintings, Thangka and wood-prints. You will see most of the cliff paintings on huge rocks and what you will find most astonishing will be the close resemblance of these paintings to mid- Asian cliff paintings. Probably, this is because the cliff painting in Tibet is prevalent from pre historic times. Even the frescoes that you will see on the walls of temples, monasteries and palaces are close to the ones that are found in India.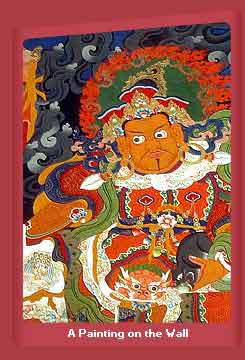 Is Tibet Famous For Its Handicraft Items !
Handicraft works in Tibet are quite unique and rare and their specializations are also quite incomparable. Sharp knives, as a handicraft product, are quite flattering. They are in-fact very beautiful to look at and the shape, decorations and attention given to the minutest of detail, will without a doubt leave you spellbound and definitely increases the temptation to possess one. Though you cannot carry a knife on a flight but you can definitely send them by post to your living place. So when you reach home, expect a shiny and sharp gift from Tibet, waiting for you.
Silver ornaments are also very famous in Tibet. These are worn by almost every citizen of Tibet. These ornaments are studded with different prestigious stones that also are considered to be a symbol of health and good luck. You would not like to leave Tibet without one for yourself as they are exceptionally elegant and classy in looks. Other things that should be part of your shopping list in Tibet are Tibetan carpets, masks and rugs.
Do Painted Structure Symbolize Tibet Art !
Painting of the structure in Tibet also form a major part in the showcasing the rich art skills. It is sure that the moment you enter a Tibet city, first thing that catches your eyes will be the intricate use of colors on the walls and roofs of temples, monasteries as well as houses. People here believe that colors have a language of their own and can communicate a feeling very easily. The best example of this is the Potala Palace. The red and white colors used in the building symbolizes power and peace respectively. Apart from the use of colors, even the structure of these buildings is unique.
Want to Know More About Tibet Art and Craft !
Tibet is a place where you will find art in almost all aspects of life of people. Be it the decorations in their homes, the clothes they wear or even the knife they carry with themselves should be artistic. You can find all these items to buy on the Barkhor Street which is the biggest market in Tibet. So from the time you land in Tibet, look out for some of the most stunning works of crafts and do catch the most unique form of art in the paintings, handicrafts and architecture of Tibet.