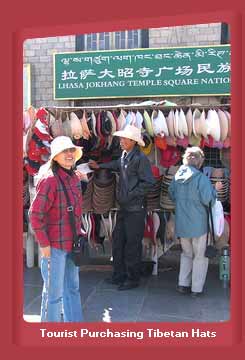 The Magic of Shopping in Tibet !
Tibet, without a doubt is full of scenic fantasies and historical wonders, but still, a trip to Tibet is never complete without a long shopping spree here, even if you have explored all the destinations inch by inch. Shopping in Tibet, over the time has generated great interest in travelers and now people often travel to Tibet for its shopping bonanza. That's how fascinating and unique the experience of shopping in Tibet is. You can start your stint from Lhasa where you will get everything, from a pin to a palace, and then move onto places that are special for their specialties.
Where to Shop From !
For small and big shopping flits one has to just hang around in the city. Lhasa Department Store, is located on the west end of Yuthok Lu, one of the largest and best-known market hub in Lhasa. It sells all the items one can ask for on urgency basis, or a tourist cannot do without like cotton clothing, mugs, canned food, towels, and toothpaste, plus local handicrafts. Barkhor is another most famous shopping market in Lhasa, where you will find more traditional Tibetan artifacts in small roadside shops. Buddha figures, prayer flags copper teapots, horse bells and jewelry inlaid with turquoise and other gem makes that allure any visitor. Though be aware of the quality of the material that you are buying, because few of them might be fake. But still, unique designs and cheap rates make them great souvenirs that you can take back home.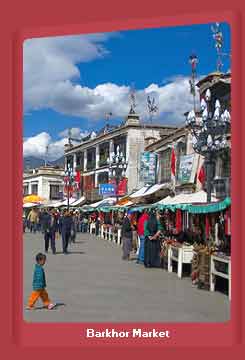 What are the Famous Shopping Items !
Tibet is actually famous for its handicrafts and paintings like the Thangka which is a kind of a Tibetan scroll painting that generally have their base in Buddhist religion where as Tibetan crafts are often made from different metals like gold, silver, copper and stones like turquoise. These beautiful items with the most exceptional carvings on them have become the most shopped for item in Tibet. Apart from crafts, you should check out some of the most scintillating jewelry that you would have ever seen. There are numerous varieties of jewelry like pearls, agate, gold and silver ornaments.
What Else on Shopping Streets !
Just Wander down the Barkhor street and you will see not only handicrafts, paintings and carpets, but also precious gems, stones, exotic masks, dazzling knives and much more, that will make your head turn and your hands move towards your pocket. The one thing that you must remember is that if you buy a knife, make sure that you send it through mail to your home town, as you are not allowed to take knives with you on flight. You will also come across bookstores from where you can get books related to Tibetan history, culture and even travel like maps and postcards, so don't forget to take a look inside these useful stores.
Are You Ready For Shopping Thrill !
A single page cannot in any way, hold everything that you can shop here, but still a lot of main things that are sure to capture your attention have been mentioned here. Tibet is full of shopping treasures that are absolutely unique and spectacular, other thing for sure is that every one will get everything that one is looking for, just bring your pocket full ….not to repent later.