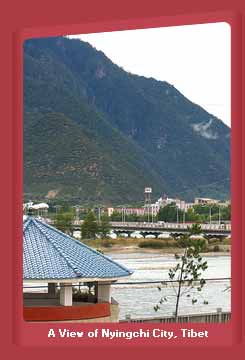 Nyingchi City - Can There Be Any Place More Beautiful !
Nyingchi city is situated in the southeastern side of Tibet Autonomous Region well adorned with its magical panorama. Nyingchi in Tibetan language means' The Grand Throne of Sun' is situated at an average altitude of 3000 m which is comparatively lower to other cities of Tibet. This makes the city temperature quite normal without any sudden changes. The area is home to huge well-preserved forests, grown here for many years. And that makes these forests quite rich in flora and fauna varieties. Due to its scenic charisma, Nyingchi City has been called as "The Switzerland of Tibet". The people in Nyingchi city belong to Menba and Luoba tribes and are strong followers of their traditions. One has to keep in mind the time at which they choose to travel to Nyingchi. Due to its varying altitude, the climate here is generally wet and rains are quite heavy in the area especially from October to April. This makes it difficult for travelers to roam around in the city. But these rains also give the city a great charm.
Shopping in the city can become an indispensable part of Nyingchi travel. The most famous area from where you can buy everything that is required is Hong Kong Street in Bayi. You can shop for green tea, woolen blankets and various varieties of plants having medicinal value. The locally made handicrafts also are a great buy for the tourist.
What to See And Do !
Like all other parts in Tibet, Nyingchi is also quite rich in natural marvels. These attractions are not just good for sightseeing, but they prove to be a dream destination for adventure lovers and daredevils. Rest assured, the place is going to be there in your mind, impressioned, for your lifetime.
The Yaluzhangbu Grand Canyon
The Yaluzhangbu Grand Canyon, located in the south eastern side of Nyingchi city is situated where Himalyas, Tanggula, and Henduan Mountain meet. The canyon that is around 500 km long has an average depth of 5000 m. Apart from the exceptional ecological system, you will see a large variety of wildlife as well, Bangladeshi tigers, the long leaf tail monkey and many others. There are no staying places nearby so it is advised that you carry all your camping gear along with you and take necessary precautions as the area is exposed to floods and landslides. Do not go their without a guide who knows the area well.
Sacred Sejila Mountain
This is an important pilgrimage center situated in the eastern side of Nyingchi City and located at an altitude of 4700 m above sea level. The pilgrims come here and walk around the peak and offer their prayers. Just stand at any point and admire the pure elegance of the mountain that is covered with flowers of all color. The sight is absolutely spellbinding and takes you into a world never experienced.
The Paga Temple
The Paga Temple has a long history and dates back to the era of 5th Dalai Lama. You will find the largest collection of Buddha statues almost thousands in number. Also seek blessing of more than 100 Lamas residing inside the temple premises. One who visits this temple never leaves without going to the Holy Paga Mountain and the mysterious cave half way up the mountain. Said to have super natural powers, the cave also has a hot geyser that shoots out every 4 hours. Carefully examine the walls of the cave that have a lot of inscriptions that still remains hidden from the eyes of the world.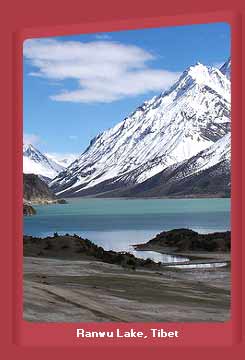 Ranwu Lake
This is the biggest lake in south east of Tibet and is around 90 km away from Nyingchi city. The lake is surrounded by various mountain ranges from all side, the Gangrigabu snow mountain in the southwest, the Azhagongla Glacier in the south and Bosula Peak in northeast. Look at the mountains which themselves is multicolored. The tip of tehse ranges is covered with snow all round the year and the foot of these hills are rich in green vegetation. The lake is situated at an altitude of 3800 meters and covers an area of around 22 sq. km.
Where to Stay !
The city has many star rated hotels, one can get all kinds of luxury facilities in these hotels. Few of these hotels are located adjacent to busy roads and few are in located in nature's lap, surrounded by picturesque places. Being a major trade city, there are many business travelers in Nyingchi, so for the convenience, many hotels provide business amenities too. The hotels that stand out from the crowd are Nyingchi hotel, Nyingchi Post Hotel, New Century Hotel and Nyingchi Garden Hotel.
How to get there
By Air
After a long wait, Nyingchi city has got its own airport, the third civil airport in Tibet. It gets flights from both Lhasa and Chamdo Bangdad airport.
By Road
The Sichuan-Tibet highway, cuts through Nyingchi city. This connects the city to many major cities of Tibet. To Lhasa, the distance is around 663 km and it takes around 10 hrs to reach here. The frequency of the bus service is quite appreciable.
Local Transport
Many parts of the city are virtually unreachable by vehicles, but few are there that can be reached by transportation. For those places you will get trucks and buses. The other options are boats.
What Else You Need to Know About Nyingchi City !
Be absolutely prepared when you come to Nyingchi town. The city receives the maximum hours of sunshine due to its altitude. So don't forget to carry with you an effective pair of sunglasses, sunscreen lotion, a cap and ample of medicines for indigestion and cold. Such heavy sunshine also ensures huge gap between day and night temperatures so keep in hand few woolen clothes as well. Average yearly temperature here is around 9 degree C that makes the city tourable throughout the year.
Your trip to Nyingchi will be definitely family oriented. Every member of your family will have something to look forward to. Women will have a splendid time shopping here on the famous Hong Kong Street. Everything that you will get in Tibet is available on this half a kilometer long street. Though locally made handicrafts are the most famous. And because of city's pleasant atmosphere, even kids won't have a problem roaming around in the city and to dig much of the mysteries of Paga Mountain Caves. One can indulge into a day sightseeing tour of Nyingchi city but to experience the real magical charms of the city, minimum keep two days aside.
The city is surrounded by some high rises that prove to be a good opportunity for seasoned trekkers to pack their bag and head for them. There are lot many restaurants famous for Tibetan delicacies both cheap and expensive, although the preferred cuisine is Sichuan cuisine only. So keep at least three days completely for this city.