Nagqu City - Is There A Paradise on Earth !
Situated at an altitude of around 4500 m, Nagqu city nestles in the northern part of Tibet autonomous region and covers an area of 400,00 sq. km. Nagqu has established itself as one of the most important political and economic center of Tibet, famous for trading and exporting of different commodities like animal products, mineral ores, and many agricultural products. The city has a population of around 331,000 most of them belonging to different communities. The people of Nagqu are the most colorful and ardent custom followers full of courtesies and hospitality.
The one thing that you must be quite aware of, is the climate of Nagqu. Don't get shocked by knowing that the average annual temperature here ranges between -.9 C to -3.3 C. This should be enough to convey the message that you just cannot go into the city without warm woolen clothes. Due to vast areas of plain lands, the city is extremely vulnerable to the violent sandstorms that are pretty frequent. Once you take preventive measures you are all ready to explore the different hues of the city. Shopping in the city is actually a great experience for people who are looking for antique and traditional items. The specialty of Nagqu is jak, dried meet and Aweto, which is a creature found only here and is considered to be a great medicine to many diseases. When in Nagqu, don't miss the various festivals like ghost exorcising festival, Tibetan New Year and Herb festival.
What to Look For !
Imagine yourself walking through the paths of heaven surrounded by the most gorgeous landscapes just the way you wish for. Well, if you come to Nagqu, you will not have to stress your mind by imagining. All you have to do is run your eyes and look around, you are in heaven. The place is abounding with magnificent places to see and explore. Experience them with leisure.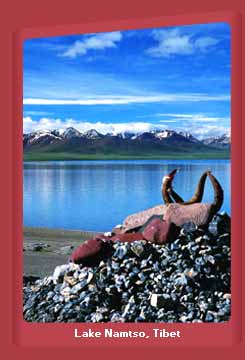 Lake Namtso
Looked upon as one of the four most sacred lakes in Tibet, Lake Namtso mean 'Holy Lake' located in Nagqu prefecture is an important pilgrim destination for Buddhist pilgrims. The lake is situated at a height of 4720 m and covers an area of 1900 sq. km, is the highest and largest salt lake in the world. Apart from being an apt sightseeing place, you can set up a camp and just relax on the banks of this shimmering blue lake.
Shodain Monastery
Situated in the heart of Nagqu city, Shodain Monastery is the most famous Yellow sect in Northern Tibet. The monastery dates back to more than 200 years back and once was the pride of Tibet. It used to be a home to more than 350 monks but now only around 60 monks reside here. Still it holds huge importance in the lives of Tibetan people. It is the venue where the Grand Summons ceremony is regularly held in the month of January.Also do visit this monastery in the month of August when the Changmo dance is performed here. The performance by professional dancers is an absolute treat to watch.
Zhoima Canyon Scenic Spot
Zhoima Canyon is one of the most mesmerizing areas in Nagqu. The best time to visit this spot is in summers when the entire surrounding is covered with numerous varieties of colorful flowers that give this place a special fragrance. Walk around this scintillating area to discover splendid lakes that contain absolutely crystal clear water. Situated at a distance of 92 km south of Nagqu and at an altitude of 4700 m above sea level, Zhoima Canyon is well connected to the city and is easily accessible. Though it is advisable that you hire a vehicle from the city.
Purugangri Glacier
Towering to a height of 6482 m above sea level, Purugangri Glacier covers an area of around 400 sq. km. These high snow peaks are the most pristine glaciers in the world. Looking at them from a distance is an absolutely magical sight with your eyes only getting in vision, the pure white color of the snow covered peaks. Don't dare to reach them, they are not that friedly.
Where to Stay !
You will find ample of hotels in the city with most of them being budget or a little above budget. All your basic needs will be met here with absolute satisfaction. Many of these hotels are located just by the side of the highway that makes them easily accessible. The hotels that can be safely recommended are Nagqu Prefectural Government Hotel, Nagqu Hotel and Changtang Xinyuan Hotel.
How to Get There
By Air
The nearest airport to Nagqu city is in Lhasa. It is around 330 Km away from here and takes around 6 hrs to reach here by road.
By Road
Qinghai-Lhasa Highway passes through Nagqu and is like a lifeline to the people here. This is one of the busiest roads in Tibet and has a lot of transportation options, mainly mini buses or you can hire a vehicle which will be a better option.
Local Transport
The transportation system inside the city is developed and all the parts are well connected. Although the condition of the roads is not that good, the scenery around doesn't let the bumps on the road tarnish your enjoyment. Buses are the main mode of transport in the city.
What Else You Need to Know About Nagqu City !
You will definitely feel the chill in the air as average temperature is as low as -.90 C. Plan tour trip in the months from May to September as it is the best time to visit when the temperature is bit above the normal. The city is quite different from other parts of Tibet. That is why women will have a great time shopping for unique items of medicinal values like aweto, snow lotus flower and caladium. There are also number of adventure options available in the city. Youngsters can trek their way to Lake Namtso and Meimo Lava Caves situated at a higher altitude. The route is quite basic and is great for starters. The city is big and asks you to spend more time exploring it. Keep in hand at-least two days to cover all the major attractions of the city. And as far as cuisine goes, Sichuan foods is the favorite most. The difference that you will see here will the number of ways in which the food is cooked, boiling grilling, frying, you name it the way you want it, and you will have it in front of you.